What is the Difference Between an MA and an MSc?
Written by Sarah Hastings-Woodhouse
Which subjects can I study an MA or MSc in?
Perhaps the biggest and most obvious difference between the MA and the MSc is the type of discipline each qualification is offered in. As its name suggests, an MA or 'Master of Arts' is usually awarded in an Arts or Humanities subject. You'll typically study an MSc of 'Master of Science' in a STEM (Science, Technology, Engineering and Mathematics) subject.
Things aren't quite that simple though! There's no absolute distinction between an MSc and an MA – in fact there are many disciplines which may award either qualification. This is most common in the Social Sciences (such as Psychology, Anthropology , Geography or Economics). In this case, whether a programme is categorised as an MA or an MSc will usually depend on the specific focus of the course. For example:
an MA in Geography may focus on 'human' elements of the subject such as urbanisation, geopolitics and resource management
an MSc may place more of an emphasis on physical phenomena such as coastal erosion or sea level change
Some institutions may also offer MA programmes that theorise about the more Humanities-based elements of technical or STEM subjects, such as medical ethics, for example.
Ultimately, there are no hard and fast rules about what qualifies as an MA or MSc, and courses will be labelled at the discretion of individual universities.
What's it like to study an MA vs an MSc?
The MA and MSc are both taught (as opposed to research) degrees, meaning course content will be delivered through a series of individual modules, usually culminating in an independent dissertation project. You'll learn through a combination of lectures, seminars and (where appropriate) practical workshops. MSc courses also often include laboratory-based exercises and demonstrations.
This doesn't mean you won't have the opportunity to explore your own ideas – there's still a heavy emphasis on independent research in both qualifications (that's what the dissertation is for, after all!), but studying a taught Masters will mean that you have regular contact with academic staff, equipping you with a solid grounding in your chosen subject area.
MSc programmes will generally involve more contact hours than MA programmes. MA students can expect to attend three to five hours of timetabled activity per week, whereas those studying an MSc in a Social Science will have closer to 10 contact hours per week. An MSc in a 'hard' science (such as Chemistry or Physics) will often require students to follow a 9-5 schedule, with daily activities consisting of lectures and laboratory work.
As we've said, you'll conclude your course by submitting a dissertation. This will generally be between 10,000 and 20,000 words (you can expect MA dissertations to be at the higher end of this scale). If you're studying an MSc, you'll usually undertake extensive practical field work in preparation for your dissertation, before presenting your findings in the final product.
Both qualifications will take 1-2 years to complete. They are also worth the same number of credits – 180 in the UK, or 90-120 ECTs points in Europe.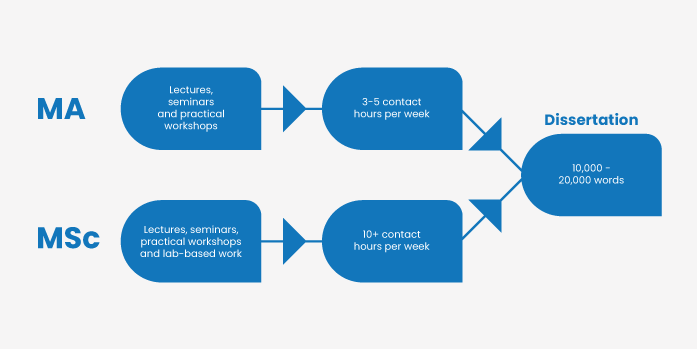 What are the entry requirements for an MA vs an MSc?
The main entry requirement for both MA and MSc programmes is usually a Bachelors degree in a relevant subject. There are no set rules about which type of Bachelors qualification you'll need to possess – you can still apply for an MSc if you studied a BA at undergraduate level, and vice-versa!
Many courses have other requirements in addition to academic qualifications, such as relevant professional experience or a sufficiently high score in an entrance exam such as the GRE. Our full guide to Masters degree entry requirements explains this in more detail.
Of course, entry requirements will differ considerably between courses. You can check the requirements for specific programmes using our course finder.
Should I study an MA or an MSc?
There's no difference in level of study or prestige between an MA and an MSc, so which you choose will ultimately depend on your chosen discipline. As we've already covered, many subjects will only be offered as either one or the other (you'd be hard pressed to find an MSc in Gothic Literature or an MA in Molecular Chemistry). So assuming you've already got a subject area in mind, you often won't have to worry about choosing between the two.
If your chosen subject is available to study both as an MSc or an MA, it's best to pick a programme based on how well the course content aligns with your personal goals and area of interest, rather than worrying too much about the title of each qualification! Both are equally respected and will open up career opportunities in the future, as well as paving the way for potential PhD study.
Our postgrad newsletter shares courses, funding news, stories and advice
Last updated: 14 October 2022