About the course
Overview
Sarum College
Our courses, conferences, and facilities are open to all. Founded in 1995, the College is based in historic grade 1-listed buildings with a heritage of theological education stretching back more than 150 years in Salisbury's Cathedral Close.
Read more about this course
Loading...
---
Entry Requirements
The normal requirement for our postgraduate programmes is a good first degree in a related subject. However students aged over 25 with other relevant experience and/or training may be admitted subject to interview. For full details of our postgraduate programmes please visit: View Website
---
Send an enquiry to Sarum College
Please correct the errors indicated below to send your enquiry
The information you submit to Sarum College will only be used by them or their data partners to deal with your enquiry, according to their privacy notice. For more information on how we use and store your data, please read our privacy statement.
Open days
Thinking about postgraduate study? This is your chance to meet the faculty who run postgraduate programmes in spirituality and theology at Sarum College. Find out how the mix of intensive teaching weeks up to three times a year combined with online support means you get a lot of in-person teaching that can fit around your life without the need to relocate or give up a job.
Location
online via Zoom
Web
https://www.sarum.ac.uk/short-courses/taster-july-2023/
Contact
Where will I study?
Where is Sarum College
---
Videos
---
Student Profile(s)
Mike Truman
Five years ago, I told my Warden of Readers that I would not be renewing my licence when it expired in 2019, as I thought my faith was becoming too unorthodox for a Church of England licensed lay minister. As someone who knew me well, she challenged me to actively explore what I did still believe. Thus started the journey that ended last August with the dissertation completing my MA in Theology Imagination and Culture (MATIC) at Sarum College.

I started by auditing modules both from MATIC and its sister programme, MACS (MA in Christian Spirituality). As an auditor, I participated fully in the intensive residential study week for the module but with, as I thought, the great advantage that I did not have to write an essay. I soon realised my mistake – researching in depth for the essay was a vital part of getting the most out of the module. I started the MA in 2018.

I always knew my dissertation would examine why liberal Christianity had failed to thrive since the 1980s in what should have been a supportive cultural environment, but I was struggling to find a hook to hang it on. The breakthrough came when I heard a programme about Don Cupitt's 1980s TV series Sea of Faith and discovered that there was an archive of the letters sent to him held by Gladstone's Library in Hawarden. I had an exploratory trip there in summer 2019, and started to draft my proposal – The Road Not Taken: what was lost by the British church not pursuing the ideas in Sea of Faith, and could its vision still be worth exploring? The plan was to centre the dissertation on an analysis of the letters and to see if they resonated with the views of those who now report they are "spiritual but not religious". I had a year from September 2020 to write it – what could possibly go wrong…?

Read more on the Sarum College website: https://www.sarum.ac.uk/the-road-not-taken/
Susan Francis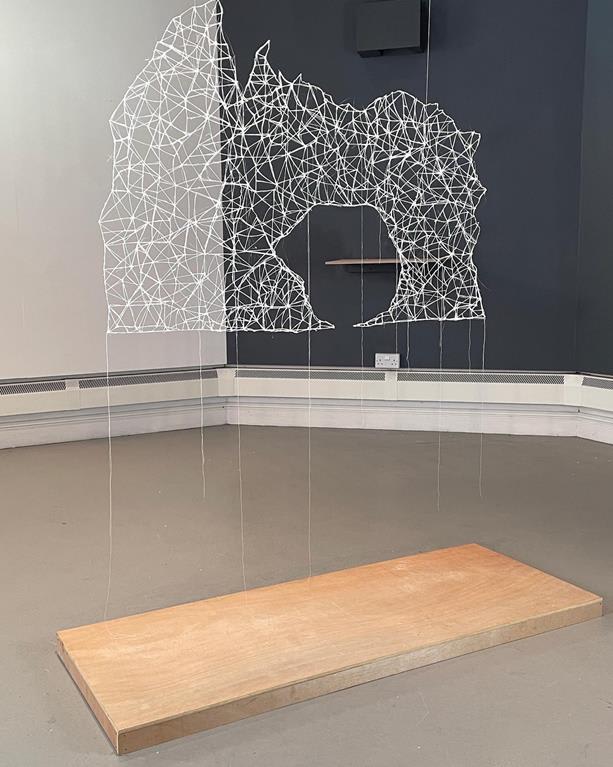 The Theology, Imagination and Culture masters degree (MATIC) at Sarum College is one of just a small handful of academic courses in the country which take on the complex but fruitful crossover of theology, imagination, and culture. As both a practicing artist, and someone with a personal history of involvement in faith organisations, it seemed to offer a much-needed platform to bring these two areas together, in perhaps more rigorous conversation than had previously been possible. What follows is a brief exploration into the realities of this endeavour. As I attempt to unwrap the nature of this experience, I will conclude by asking, where is the 'here' of now, compared to the 'there' of beginning, in other words, having set out on the MATIC path, where do I now find myself in terms of my faith, my relationship with art, and my commitment to furthering the dialogue between the disciplines of art and theology.

Read more: https://www.sarum.ac.uk/from-there-to-here/
Peter Butchers
I always resisted further theological study as my role as a local Baptist minister had always felt so time-consuming. Furthermore, I had never felt the Master's programme leaflets that crossed my desk over the years were really all that relevant to either my own spiritual formation or ministry in the local church. I never thought that there would be an academic course that would give me the space to explore my interest popular and world culture and their intersection with theology before coming to the Sarum MA in Theology, Imagination and Culture (MATIC).

The programme structure suited my church responsibilities very well, allowing me to take a Monday to Thursday away from Church life to attend the teaching sessions three times a year. Each intensive teaching week requires a written assignment selected from around ten assignment questions.

I wrote assignments on C S Lewis's imagination and theological practice; consumerism as an opportunity for mission; the place of incarnation in the digital world; the impact of short-term mission in engaging indigenous communities with the Bible in a postcolonial context; and the intersection of mission and mysticism.

The first two years followed this pattern -- intensive teaching week and then writing an assignment -- and through this process of study I honed my interests ready for the third year, the dissertation, in which I combined digital theology and the Christian pastoral approach to death and dying. In local church ministry I saw a disconnect between the formal voice of Christian eschatologies and the operant voice of those facing death or bereavement.

In contrast, much of the operant voices around death and dying articulate Christian hope in ethereal and disembodied ways with euphemistic and vague language. I was interested to discover why this disconnect has happened and how it might be addressed in pastoral practice.

Meanwhile, in popular culture there are many examples of the afterlife which are depicted as seemingly certain, embodied, clear and hopeful. Netflix's Black Mirror episode San Junipero is a good example.  So, my inquiry was how cultural tropes, like those found in Black Mirror, might help bridge the gap between what academic theology espouses and what the everyday Christian believes. It was a fascinating exploration of platonic philosophy, digital theology and eschatology, and pastoral practice around death and dying. I could never have imagined that a Netflix
Susan Francis
The Theology, Imagination and Culture masters degree (MATIC) at Sarum College is one of just a small handful of academic courses in the country which take on the complex but fruitful crossover of theology, imagination, and culture. As both a practicing artist, and someone with a personal history of involvement in faith organisations, it seemed to offer a much-needed platform to bring these two areas together, in perhaps more rigorous conversation than had previously been possible.

One thing which seemed to unite all of the MATIC students was a need to question, to open up, to explore, to expand our edges and our boundaries. As the months went on, with a broad, challenging but rich programme of cultural, theological, and philosophical study, this was more than satisfied. With room for each student to follow their own area of fascination, I was drawn deeply into the liminal and ambiguous workings of the imagination inherent in the art experience. 'Experience' or 'Erfahrung' as the German translates, derives its etymological roots from the word 'travel', which might explain the particular capacity of German philosophers and theologians such as Hans Georg Gadamer and Paul Tillich to grasp the mobility inherent in the art experience.

Sarum College delivers a uniquely potent and multi-layered pedagogical mix, for not only do its students learn through academic study, they learn through real life exchange. When lectures conclude for lunch or coffee breaks, rather than take to individual spaces, students come together to discuss over shared meals and refreshments, in welcoming communal areas, where one might be in conversation with a jazz singer seated on one side, and a Benedictine monk on the other. All of this rich diversity cleverly nurtures a listening environment of tolerance and inclusion, which is useful when study can cover anything from the transcendentals of beauty, truth and harmony, to Lady Gaga, Sex robots, AI and the path of global consumerism.

Susan Francis is a multidisciplinary artist, curator and writer creating object, installation, film and drawing which explores our lived experience as both analogue and digital selves. She is curator at Chapel Arts Studios, a socially-engaged, contemporary visual arts organisation which supports artists and delivers creative education in the North Hampshire region.

Read the full blog on the Sarum website: https://www.sarum.ac.uk/from-there-to-here/