Sustainable and Efficient Food Production - MSc
---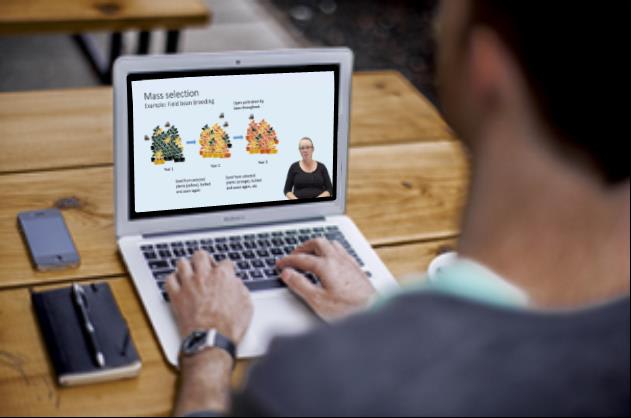 About the course
Equip yourself with the knowledge and skills to help agriculture meet the challenges of the 21st century! This Sustainable and Efficient Food Production postgraduate course centres on increasing efficiency and reducing environmental impact within the extensive pasture-based production sector. The programme provides flexible, accessible, postgraduate level training for people employed in the agri-food sector. Training comprises distance learning modules and work-based research projects. These are accessible as CPD or as credit-bearing units, which can be built towards a range of postgraduate qualifications.
Download our guide to Agricultural and Environmental Postgraduate Distance Learning at Aberystwyth University.
Read more about this course
Loading...
---
Entry Requirements
All modules are taught at postgraduate level (level 7). Candidates must hold at least a second class honours degree in agricultural or biological science, or a closely related discipline. Applications from mature candidates with relevant experience are welcome and will be given equal consideration.

Non-graduates must have at least 24 months of relevant full-time work experience in an agri-food industry. Relevant experience will be determined by the University. If you have employment experience which you consider may be equivalent to a degree, please give details of positions held, dates of employment and responsibilities within the position held.
---
Send an enquiry to Aberystwyth University
Please correct the errors indicated below to send your enquiry
The information you submit to Aberystwyth University will only be used by them or their data partners to deal with your enquiry, according to their privacy notice. For more information on how we use and store your data, please read our privacy statement.
Where is Aberystwyth University
---
Student Profile(s)
Mark J
This course looked like it would give me the opportunity to bring myself up to date with the latest research without having to take time away from my farm and young family.
What worried me most was fitting study around the rest of my life – and it was quite intense but, once I had got used to studying via the web, I found it really enjoyable. The videos were easily as good as being in a lecture theater AND had the added bonus that I could pause them (to make a cup of tea!) or replay bits I felt I hadn't quite got. I also found using the electronic library was an absolute joy in terms of time saved ferreting around in a library. The deadlines throughout the course were good because they meant that I wasn't falling into the trap of leaving everything until the end. Fitting study around life was a struggle but once I started planning for study time my marks did reflect the extra effort I was able to make.
What I gained was a much broader understanding of loads of topics; for example, the methane debate. The course really highlighted the importance of going back to the source material rather than accepting the word of others. On top of this, learning how to critique research papers has made me much more questioning of claims and their sources.
I have made several small changes to the way I farm as a result of the course.
I am now much more aware of the impact on the rumen of changing diet and as a result I am implementing changes much more slowly; and because of my much deeper understanding I feel confident about the changes that I am making.
The course really got my brain back to work. I loved the level it was pitched at and the challenge that presented.'

Sam K
Sam left education at 18, straight after A levels and was lucky enough to get a job with an agricultural consultancy. For the last 12 years he has worked as a consultant and learnt a great deal, but had no formal qualifications to back this up. Aberystwyth University was able to count his years of experience as a consultant as equivalent to a degree and he was accepted as a postgraduate student. Since then he has flown through training in three modules (Ruminant Production, Ruminant Health and Welfare, and Ruminant Gut Microbiology) to gain a postgraduate certificate.

At first Sam was concerned as to how he could possibly fit studying round a working life, but he says he was pleasantly surprised by the design of the course which allowed him the scope to balance work and study, and kept him motivated. For instance, he found being able to listen to podcast lectures in the car a great way to learn whilst driving between farms. Interacting on the forums with his fellow students (all of whom were working too) sparked some great discussions and really made him feel connected.

Sam says:
"The course not only backed up the knowledge I have gained as a consultant but also gave me a much better understanding of the bigger picture. Most farmers are aware of the environmental impacts of farming but many are unsure what they can do on the farm to reduce these. I am now able to give much more comprehensive advice on both the environmental and economic impacts – which often go hand-in-hand."

So what's next for Sam? He seems to have got the learning bug. Now he realises that it is possible to study while working he is intending to build upon his recent success by applying for a Nuffield scholarship. He is certainly more than capable.

Becky Tavenor
'I thought it would be completely impossible', states Becky Tavernor as she graduates with a Masters with Distinction.
Aberystwyth University are proud to announce their first Masters graduate in Sustainable and Efficient Food Production. To mark the occasion Aberystwyth University have produced a short video where Becky comments on some of the challenges and achievements that led to her outstanding academic success in her part-time distance learning masters course.
Like many of our students Becky started her studies in a small way with a two-day workshop in soil science. In common with other participants she enjoyed her first module in this area so much, she decided to take things further by enrolling on the part time Masters course. Becky took a total of six twenty credit modules and undertook a work based research project over a total of four years to achieve her degree.
Becky is a dairy consultant with the Dairy Group and works with dairy farmers to tackle technical and productivity challenges in their herds. To develop her research project, Becky took aspects of her day job where she undertakes mastitis control work, to create a work based project which explored the use of digital pedometers in dairy cattle and whether data gathered from these could be used to predict the incidence of mastitis in a dairy herd.
'The course has given me a complete technical update and all the advice I give to my clients has been improved and updated', is one of the other positive outcomes that Becky is able to report from completing the course.
Becky is typical of the hardworking ambitious students we are looking for on the programme', stated Marty Spittle, Co-ordinator at Aberystwyth. 'We fully recognise and appreciate that our students have busy work and home lives. Our courses are flexible enough to allow people to progress as their work and domestic commitments allow. We wish Becky all success in her career and hope that she and her clients will continue to benefit from the improved technical and scientific knowledge she has gained on the course.'