Philosophy and Public Policy MSc
---

About the course
The MSc Philosophy and Public Policy provides a solid foundation in the conceptual and normative questions underlying public policy formulation.
Read more about this course
Loading...
---
Entry Requirements
Upper second class honours (2:1) degree or equivalent in any discipline. You should also demonstrate a considered interest in the area covered by the MSc.

Competition for places at the School is high. This means that even if you meet our minimum entry requirement, this does not guarantee you an offer of admission.
---
Where is London School of Economics and Political Science
---
Videos
---
Student Profile(s)
Mischa van den Brandhof
What really convinced me to attend LSE was visiting the Department. After talking to one of the professors about the MSc, I was positive that LSE is where I wanted to be. The philosophy we are doing is very hands-on. It is about important policy issues that refer to the basic question of what kind of society we want to live in. If there is one thing I have learned, it is that philosophy is absolutely vital in thinking about public policy. This MSc is great, because it teaches you the fundamentals: how to read, think and write critically about policy. Secondly, the fact that students come from different national and academic backgrounds makes the course intellectually stimulating. If I had to choose the best thing, it's how committed our professors are. They are very approachable and they are interested in what students have to say. In addition, they are dedicated to spending time with students outside the classroom. The MSc is really intense, so there is little time to do other things, but most students still manage to attend the interesting talks organised by the Philosophy Department or the Centre for Philosophy of Natural and Social Science (CPNSS). There is always something going on at LSE, from lectures by internationally eminent speakers to social events. The yearly departmental weekend was also a great opportunity to get intellectually and socially involved with students and professors. After I graduate, I would like to work at a policy institute or at an international NGO, like the Open Society Institute or Amnesty International.
Natalie Raaber
I was drawn to LSE's interdisciplinary, dynamic and theoretical approach to academic study; specifically, I valued my programme's focus on critical questioning, epistemology and research into and the analysis of political and moral philosophy.
The MSc in Philosophy, Policy and Social Value provides the unique opportunity to combine the study of moral and political philosophy with that of public policy, offering a strong interdisciplinary and practical component. The MSc is intensive and comprehensive, covering a broad range of topics in political and moral philosophy, challenging those with a background in philosophy, while remaining accessible to those with an undergraduate degree in a different discipline.

LSE has provided a backdrop of diversity, both in the academic backgrounds of attending students and professors as well as in their personal experiences and origins. The energy of a global city, the access to leading and progressive social science research and the high level of intellectual curiosity within the academic community contribute to the LSE's draw. Furthermore, the speaker selection at LSE provides a rare opportunity to engage in challenging debate with leaders in academia, government and international non-governmental organisations.

Upon completion of the programme, I plan on pursuing work as a research assistant in foreign policy development, with a specific focus on international human rights. Following this, I plan on attending Law School in New York in the fall of 2007. Ultimately, I would like to combine my degree in Philosophy and one in Law to pursue a career in international human rights law and policy.
Fergus Green
Before moving to London, I studied politics and law and practised as a lawyer in Australia for three and a half years. I chose the MSc in Philosophy and Public Policy because I wanted a stronger applied philosophical grounding in order to move into a research- and policy-oriented career focused on the design and normative evaluation of public policy and regulation. I had a wonderful experience in my MSc year. I chose courses and papers that catered to my diverse interests in the normative issues relevant to climate change, economic policy, democracy and citizenship. My lecturers and professors were closely engaged in my learning and development. And the Department provided a supportive and stimulating environment in which to study. Most importantly, the degree equipped me with an invaluable set of intellectual tools for thinking through the philosophical issues implicated in contemporary policy debates.

After finishing the MSc I went on to apply those skills as Policy Analyst and Research Advisor to Professor Nicholas Stern at the LSE's Grantham Research Institute on Climate Change and the Environment (January 2014 – October 2015). A key part of my role involved assisting Professor Stern with his academic and policy-related work, a great deal of which engaged with normative issues in climate change and economic policy. I am currently undertaking a PhD in Political Science in the LSE Department of Government, where my research focuses on issues of justice that arise in policy and legal transitions. I also run my own climate change policy consulting business.
Rikke Sommer
I took the MSc Philosophy and Public Policy in 2013-14 as a full-time student. My programme comprised of the courses Philosophy and Public Policy, Evidence and Scientific Methods, Organisational and Business Ethics and an outside option, Organisational Behaviour. I finished with a dissertation where I developed a justification for corporatized companies.

I joined the philosophy department with a background in political science. Philosophy was therefore a new discipline to me and felt at first very foreign. However, as I discovered along the way, as long as you have a willingness to learn, an interest in the practical application of your knowledge and possess a curiosity about the world, you are very good fit for philosophy. Many students were new-born philosophers just like me and our mixed backgrounds came to be one of the greatest contributions to the discussions and to my learning. In discussion with my fellow students, each with a different view of the world and with a different nationality, I truly have broadened my view of many subjects, gotten more secure in my own views and now have the skills to express them and be understood. The diversity among us also gave a great cohesiveness and brought extra colour to our dinners, beers at the George and nights out in town – but that is another story.

Leaving LSE and the philosophy department, I returned to Copenhagen, Denmark, to complete my other master in political science at University of Copenhagen. Parallel to writing my thesis there, I joined a consultancy to work part time within the public sector.
Elma Dujso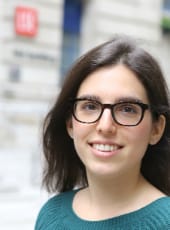 I chose LSE's MSc Philosophy and Public Policy for three main reasons. Firstly, the unique combination of philosophy and public policy was a decisive element for me. The programme teaches students to apply moral and political theories to public policy issues such as health care, social justice, affirmative action and climate change.

Secondly, the expert research of our teachers, which is reflected in the quality of teaching and the content of the courses. Finally, the focus on analytic philosophy, which has taught me that being consistent in your argumentation and writing in a structured and analytical way, is crucial to doing philosophy. Since the Department is relatively small, the teachers are approachable and the atmosphere is very nice.