About the course
Spatial planners are fascinated by on-going and future changes in cities and regions and take on the role as managers of spatial transformations - think of: regenerating shopping districts or old industrial sites; designating water retention areas; shaping urban mobility concepts for the future. Related challenges vary in scale, from individual property to European policy making. Within the Master's Spatial Planning, you have a choice between four Master's specialisations.
Cities, Water and Climate Change
Gain all necessary knowledge and skills for working on the nexus between urban planning, water and environmental management.
Read more about this course
Loading...
---
Entry Requirements
Admission to this Master's programme requires an academic Bachelor's degree in a spatially-oriented discipline. If you do not meet these admission requirements, it may be possible to take the one-year pre-Master's programme and enrol in the programme a year later.
---
Fees
The legal tuition for the 2022-2023 academic year is €2.209,- and is applicable to EU/EEA, Swiss or Surinamese students who have not yet obtained a Master's degree in the Netherlands. Our tuition fee for non-EU/EEA students is 16,000 euros.
Send an enquiry to Radboud University
Please correct the errors indicated below to send your enquiry
The information you submit to Radboud University will only be used by them or their data partners to deal with your enquiry, according to their privacy notice. For more information on how we use and store your data, please read our privacy statement.
Where will I study?
Where is Radboud University
---
Videos
---
Student Profile(s)
Jorn van Soest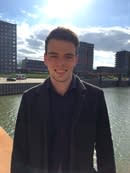 Prior to this master specialisation, I was following the bachelor's programme Geography, Planning and Environment. This master's includes a strong focus on spatial planning issues, and the specialisation provides the opportunity to gain more knowledge on specific types of spatial planning issues that you, as a student, are interested in.

Due to the fact that this master's provides a really in-depth, elaborated overview of spatial planning issues, the class is full of students who are really interested in these types of issues. During the first weeks at this master's, it surprised me to see that during coffee breaks of lectures, many students and teachers got together to further discuss issues which were discussed during the lecture.

The most challenging part of this master's is that it is really intensive compared to the bachelor's. Especially during the final part of a course period, it really takes a lot of effort and time to complete courses sufficiently. The final weeks of a period are full of deadlines and exams, which makes it really important for students to start preparing for those in time.

At this moment, I am following an internship at TNO. I have chosen for the dual mode of this specialisation to gain a bit more work experience. The dual traject contains two internships. The first internship is meant to just gain some work experience, where the second internship is meant to write your thesis at. I would highly recommend future students who do not have any idea of what to do after their study to make use of the dual mode option. Not only provides this mode the opportunity to gain some work experience, it also makes you able to make a comparison of two different organisations with which you can develop an idea on where you want to work after your study period.

Especially at this moment, spatial planners are extremely important. Contemporary issues like the energy transition and the new environmental law in the Netherlands ask for a lot of new insights from a spatial planning perspective. Issues as the rising sea level and droughts are causing problems around the whole world. A degree in this specialisation can therefore be really valuable since people are needed to take care of such problems.
Jory Verhagen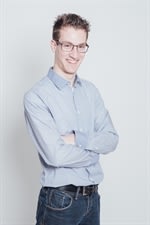 There are a couple of things about the Master's in Spatial Planning that appeal to me. An important one is the clear link that is made in the courses with the policy practice. An example of a course of which the use is especially clear to me, is Verdieping Recht en Instituties in Ruimtelijke Planning (Advanced Law and Institutions in Spatial Planning). This is a course in my specialisation in which the link between spatial planning and the legislation and regulation that comes with it is clearly made.

The ambiance in the Master's is comparable to the ambiance in the Bachelor's Geography, Spatial Planning and Environment. In my experience, the relatively short duration of the plenary part of the Master's made me make less contact than I would have in a longer study programme. Group work with other students takes place during the group assignments that are part of the courses. Professors are easily approachable: during the breaks and after the lectures you can ask them for help. In addition, the email contact with most professors is easily made.

I have done a graduation internship at the province Noord-Holland at a department that is concerned with housing policy. The subjects that the department is engaged with are comparable to the ones that I encountered in my specialisation. As for your thesis, you have a broad range of options. I chose to write my thesis about the effect of plancapacity and housing programming on the number of new homes build. In my thesis I make use of statistical analysis and quantitative data, but a thesis with a more qualitative approach is certainly possible as well.

The layout of the available space in the Netherlands will certainly continue to play a big part. Vacancy, population aging and population growth and decline produce new challenges for which solutions will have to be found in the coming decades. In this regard, it is important that there are professionals who can form a bridge between various parties, such as architects, engineers, construction firms, and citizens. My plan, as soon as I have finished my Master's, is to get started in public administration or at a consultancy firm that is concerned with spatial planning or housing. I also want to acquire some more technical knowledge, which is why I will take up some Geo-Information Science.
Eva Rispens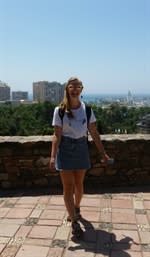 The strength of this specialisation also entails the reason I appreciate it: we are expected to dive deep into literature and theoretical concepts, and yet all of these concepts can be translated into practice and are already being incorporated into everything around us. Specialising into mobility and accessibility has given a completely new view on how we use both infrastructure and land in this small and crowded country.

The hardest part of any master would always be the Master's thesis. With this in mind, this Master's compels you to start thinking about it from week two. This is both a blessing and a sin. It allows you to start as early as possible with preparing and coming up with a plan, but it is also something you have to think about very carefully: it must be a topic you find more than just 'interesting', it must be something you can poor yourself into, without getting bored or regretting the next 500 hours you will be spending on it.

I had no idea what I wanted to do after my graduation. With this said, I have chosen to combine my Master's thesis with an internship at the municipality of Apeldoorn. They helped me finding data and I used their connections to find the right respondents, but more importantly: I got a view into the world of spatial planners at a municipality. Together with my colleagues, I got to work on small projects in the field of accessibility and city logistics. Doing this internship gave a lot of insight in how an institution with such diverse people and goals can work together and I might indeed see myself doing this job someday.

This specialisation helps you understand how intertwined travelling is with everything we do in our life, and how it both helps and hurts our opportunities. It made me realise that we can no longer keep traveling the way we do, but finding alternatives is increasingly hard due to its intertwined properties. Solutions for traffic jams, pollution, loneliness, travel inequality and so on, cannot be found only within my own field of spatial planning. It is our job to find the overlap of issues and to understand the connections between them, before we can find solutions that will solve the problem, without creating a new one.