LSE - Sciences Po Double Master's Degree in European Studies
---

About the course
Sciences Po and LSE have come together to offer high-achieving students a joint curriculum in European studies. Spanning a wide range of disciplines, and the option of bilingual instruction (French and English), this very select programme is delivered by renowned EU specialists, many with practical experience of policymaking.
Read more about this course
Loading...
---
Entry Requirements
Upper second class honours (2:1) degree or equivalent in any discipline.

You must demonstrate competence in English, and for some programmes in French as well. This depends on the policy stream you choose at Sciences Po. Please see Science Po Admissions webpages for more information. If your native language is not English you will be required to meet LSE's Higher English requirement (see English requirements) or have a recognised university degree taught and examined entirely in English.
---
Where is London School of Economics and Political Science
---
Videos
---
Student Profile(s)
Irene de Lorenzo-Caceres Cantero
When I applied for the LSE – Sciences Po Double Degree in European Studies in 2008, I was a convinced young European who wanted to contribute her best to the European Union, especially through the creation of a true European identity. Nonetheless, in the course of my first year at Sciences Po, my academic and professional horizons were enlarged thanks to the contact with inspiring scholars such as Eiko Thielemann, who introduced me to a whole new topic which I soon became completely passionate about: international migration. In this regard, the flexibility of the European Institute's MSc programmes allowed me to specialise in international and EU migration policies during my year at LSE, with a focus on the human rights and development issues at stake. This shift was also evident in my extracurricular engagement at Sciences Po and LSE: whereas I fully participated in the vibrant student life of both schools, it was in London that I became involved with student societies like Amnesty International to help defend the rights of immigrants, refugees and asylum-seekers. The combination of my theoretical knowledge of EU migration policy and practical experience of human rights advocacy at grassroots level allowed me to coordinate a petition campaign launched by the Brussels-based NGO 'December 18' to urge EU Member States to ratify the UN Migrant Workers Convention immediately after finishing my dissertation at LSE in August 2010. In January 2011 I moved to New York and started interning at the Permanent Mission of Spain to the United Nations, with the main purpose of getting a migration-related job within the UN System. I owe the Double Degree for having widened the scope of my professional ambitions from the European to the global level, as well as having allowed me to find a new overall direction for my career: giving migration policies worldwide a more humane face, one of the main challenges which the international community will be confronted with in the coming decades.

Outi Ruusuvirta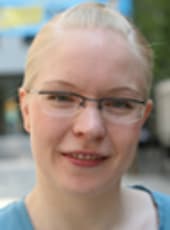 I like the wide variety of courses from which one can pick and choose to tailor the programme to suit one's own interests and needs.

Whilst the academic record, world class researchers and lectures and the superb library at LSE were among the key determinants when I was choosing a university for my Master's, the type of people that LSE attracts was also a consideration. You can have the cleverest and most ground-breaking ideas in the world, but if there aren't people around you that you can discuss them with, and be challenged and supported by, there's not much to it.

I find the general atmosphere at LSE inspiring. In seminars, there's a real debate and discussion and when you see others working hard, it inspires you to try even harder, too. But it's not only the academic side of things, we have a very nice group of people in my MSc programme and we do lots of things together outside studying; weekly pub night on Wednesdays, almost every weekend somebody organises a party or a get-together etc.

I'm very grateful to those academics who despite their busy schedules have been happy to listen to my ideas and help develop them. As I am considering doing a PhD, this kind of informal interaction has certainly helped me.
Marta Lorimer
As a final year undergraduate student applying for the double degree programme, I feared that there would be too much overlap between the two programmes. Luckily enough, I found that the two degrees proved to be nicely complementary, and this complementarity was the most enriching part of the double degree programme.

Studying at Sciences Po was an opportunity to spend quality time with the EU, understanding the political, economic and legal processes that lie behind decision-making in Brussels. On the other side, my year in London as a student on the MSc European Studies: Ideas and Identities focused on the ideas behind the European construction. Thus, in my first year, I could find out more about how the EU works concretely; in the second year, I could ask questions about why 'Europe' exists at all.

If I had to resume the double degree in one sentence, I would say that it is about knowing how things work, being able to look at issues from all sides, and learning that 'why' and 'so what?' are really the most important questions you can ask. I think that this truly comprehensive education, based on a good understanding of how things work and a healthy culture of doubt, had a crucial role in helping me secure a place on the European Institute's MPhil/PhD programme. Hopefully, what I have learnt as a postgraduate student at Sciences Po and LSE will help me through the next four years and keep my mind active for the rest of my life.
Bob Feidt
After having read Economics during my undergraduate I felt the urge to do a master's degree that offered me a wider range of subjects, which I could still link to my economic background. When I found out about the double degree in European Studies at Sciences Po and LSE and its appealing curriculum, I knew that this was my first choice. As a Luxembourger the EU had always interested me. Not only did I get to study at two of the world's most renowned institutions but I was also able to turn my genuine interest into my passion.

Bob_FeidtWhen I first met my double degree colleagues in Paris I was amazed both by their diverse academic and cultural backgrounds and the variety of their professional experiences. Though at the beginning of the year we all had different fields of expertise, we all left Paris with a solid knowledge of the functioning and internal dynamics of the EU, thanks to a wide range of modules ranging from EU Law and the EU's political system to the Union's economic integration. Besides my academic classes, I was able to attend conferences with high-profile speakers and I got to choose Russian as a new language to learn, which I was able to pursue at the LSE.

Once in London, the double degree students were split into their respective master choices. Among the three options, I picked the political economy of Europe track, which enabled me to build on the knowledge I acquired during my undergraduate degree and my first year in Paris. Although LSE and Sciences Po have a lot in common, they complement each other on many other levels. Not only were we confronted with two different teaching styles but we were also able to pick different modules that best suited our interests and career goals. In the end, I can only highly recommend this double degree to anyone who wants to be exposed to two challenging environments.
Maricia Fischer-Souan
When I learned that there was a double degree programme in European studies between Sciences-Po, Paris and the LSE, I couldn't imagine better settings for my Masters studies. Coming from North America, the subject of European integration was both fascinating and singular to me. I had taken courses in European politics and EU integration previously but what I wanted was a truly European perspective on such a uniquely European subject.

Fischer-SouanParis and London proved to be different yet complementary settings in which to become immersed in the world of European affairs. The first year in Affaires Européennes at Sciences-Po required a certain adjustment on my part in terms of the academic style and pedagogic methods. Though we all faced challenges, the sheer number of us in the programme with diverse academic and cultural backgrounds meant that the process of adaptation was the norm, rather than the exception. As students of EU institutions, policy-making and law, we became highly proficient in the internal dynamics and technicalities that drive the process of European integration. The number of courses that we had in common allowed us to forge a great sense of solidarity. Put simply, throughout the year in Paris, we, the double-degree students from different parts of Europe and the world, converged around a range of interests in the European project and the vibrancy of life in the French capital.

Then came London, where we had the opportunity to specialise in a specific field of European studies. For me, this meant becoming slightly less focused on the actual European Union, and more on the political and philosophical underpinnings of Europe as an evolutionary concept through the Ideas and Identities programme. For others, it meant engaging in the policy-focused areas or the political economy aspects of European integration. The diversity of course choices allowed me to develop my interests in political philosophy, European history, contemporary migration and even Turkish political economy. Though the students of the double-degree became more fragmented at the LSE due to the three specialisations, I don't think we ever lost sight of our common experience and the friendships we cultivated. Reflecting on the two years I spent in this Masters programme, I feel I achieved a great deal academically and in terms of personal growth as a result of my engagement with such a wide array of dedicated and interesting students, professors and EU-practitioners.