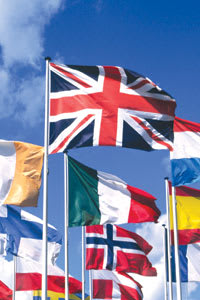 About the course
Expected application closure date
Overseas applicants: 29 July 2022.
Home applicants: 12 August 2022.
Places are limited and allocated on a continuous basis from October 2021 until all places are filled. Early applications are advised to avoid disappointment.
Programme overview
This programme gives a broad assessment of contemporary international relations. It integrates theoretical approaches with the study of many cases and issues. It also explores the ways in which the line between the domestic and international is blurred by trade, financial, environmental, strategic, ideological, cultural and ethical issues.
Read more about this course
Loading...
---
Entry Requirements
An upper second-class honours degree (or international equivalent). Degrees from all disciplines are considered.
---
---
Send an enquiry to University of Bristol
Please correct the errors indicated below to send your enquiry
The information you submit to University of Bristol will only be used by them or their data partners to deal with your enquiry, according to their privacy notice. For more information on how we use and store your data, please read our privacy statement.
Where is University of Bristol
---
Videos
---
Student Profile(s)
Mina (Japan)
I will never forget my student life at the University of Bristol. The international environment is what I cannot experience in my country. The exchange of ideas with people from all over the world was truly fantastic. The exchange of ideas is of great benefit to students who major in subjects such as International Relations.

Doing a master's degree in the UK was much harder than I thought it would be, mainly because English is my second language and the style of class is different. However, I received considerable support from the academic and the administrative staff and my coursemates, who really helped me to complete the course. The faculty members always tried to listen to students and really helped us. Especially, I would like to express my appreciation to the course director Dr. Eric Herring, my supervisor Dr. Marsha Henry and Ms. Harriet Lee.

Currently, I'm doing a master's degree in Translation Studies at a different university. As well as studying translation, I'm currently preparing for an exam to work for the Japanese Ministry of Defence. The Japanese Ministry of Defence offers language related jobs. I am motivated to work at the Defence Ministry thanks to the International Security course which was taught by Dr. Eric Herring, and through talking with my coursemates. By studying at the University of Bristol, I not only received knowledge about international relations and English skills, but I could also learn to think critically and logically. For instance, I now feel much better able to, choose and utilize information effectively, deliver proposals and think of different approaches to tackling issues.

Lin (China)
Memories of Bristol were so full of joy that I was reluctant to leave when I had to. I can still feel the passion when I tried to fight against all the difficulties regarding both study and life style. I have made some true friends, experienced what I might never experience again in my life. I will give special thank to Dr. Andrew Wyatt, Dr. Eric Herring and Dr. Gaston Fornes, for who had provided me with knowledge and most importantly a way of critical thinking; and also to Mrs Harriet Lee, with whose help I have chosen a most suitable course in which I gained a lot.

I am currently working for a Chinese newspaper in London. Work here has been very exciting though sometimes tiring. I have met and interviewed a lot of people including the Lord Mayor of the city of London. The year of study in Bristol has equipped me with a logical thinking, a practical approach and the ability to working under great pressure while hitting the deadline.

Li Tsin (Malaysia)
My experience during my tenure in Bristol University has been nothing short of fantastic. Pursuing my MSc in International Relations was more than just understanding theories and analysing case studies, it was a character building process. The international environment in the course gave me something I can never find back home, exposure to worldwide view points. The social events were great and the staff members are amazing. I must put in a special mention of Vernon for being such a brilliant dissertation supervisor. Beyond politics and economics, the course teaches very humanistic lessons about life thus making me very proud to be part of the alumni.

After graduation, I returned to Malaysia and I'm currently in the process of getting into the risky business of the independent media. Journalism is a privileged profession here and if it can make the multicultural lives of Malaysians better, educated the masses and give 'people power' back its meaning, it's a cause worth fighting for.

Sarah (USA)
Studying international relations at Bristol was an eye opening experience. As an undergraduate student, I had previously studied politics with a very North American viewpoint where almost everyone had a relatively similar opinion. While at Bristol, I was able to dialogue with people from all over the world, and in return I received many different and unique perspectives on International Relations as a whole. I was challenged by my professors, who were very knowledgeable and helpful with any questions that might have arisen. Currently, I work as a research assistant at the Foreign Service Institute, which is a part of the US Department of State. Here, I help coordinate A-100, the course for all new US Foreign Service Officers. I am also currently preparing to take the Foreign Service Exam, which would enable me to join the US Foreign Service myself.
Nicole (USA)
The MSc program at Bristol is world class. I enjoyed my classes and my professors immensely, particulary Tim Edmunds' lecture on Conflict, Security and Development. Each week's discussion was centered on a major debate in the literature about topics such as diverse as sources of conflict or peacekeeping. The experience of having to do oral presentation was stressful, but extremely useful confidence building exercises. It was also a great opportunity to really delve into topics I knew nothing about previously. Another strength of the Bristol program is the small class size. Because seminars are capped at around 15 students this ensures a lively forum for discussion. I received a lot of individual attention from the lecturers and particularly enjoyed the class debates. I'm currently pursuing a degree in Conflict Management and American Foreign Policy at Johns Hopkins University, and I would have never thought to apply or continue my studies if not for my year at Bristol. If you enjoy being challenged and stimulated intellectually by a top flight faculty who are actual practitioners in their fields, Bristol is the place for you.
Lucy (USA)
The Masters Course in International Relations at the University of Bristol was an amazing year for me both as an international student and as a student of global politics. I especially enjoyed debating international relations with classmates from all over the world and therefore developing a much broader and varied interpretation of world politics. I will spend this summer writing my dissertation and working as an intern in the International Development Office at the Carter Center in Atlanta, Georgia, which is a nonprofit human rights organization founded by former U.S.president Jimmy Carter. In August I will begin a three year degree program in Law at Northwestern University School of Law in Chicago, where I hope to focus on international law and human rights.
Till (UK/Germany)
Bristol is a great place to study. The city is picturesque and has loads of charm. What is more, you're very close to the surrounding rolling hills of the West Country complete with Hobbits and other locals! Bristol Uni lives up to its reputation as one of the best in the country.

The best thing about postgrad life at Bristol, however, has got to be your fellow students/coursemates and some of the lecturers there.

Following a fantastic year at Deans Court (postgrad accomodation) in the city centre, I, like many of my coursemates, moved to London to gain work experience at the heart of British politics. After a stint at a humanitarian aid organisation, I moved on to work at Parliament for an MP. I was then offered a position as Press Officer at the German Embassy in early 2005. While I don't believe that my Masters from Bristol alone was enough to secure my current position, I do believe that it helped me tremendously in acquiring my previous work experience, which, in turn, worked as a great stepping stone.

Mark (UK)
I had heard that it was very difficult to work and study for an MSc at the same time. The workload was intense, but the Politics Department could not have been more helpful. I was able to take all my classes on the same day and received extremely comprehensive support and advice from the tutors.

I spent some time in Russia during the first year and researched my dissertation at the United Nations in New York between the two years. I can honestly say that I would not have got my current job on the UK Civil Service Fast Stream without the MSc - the range of subjects on offer and the high standard of debate really prepared me for the recruitment process and the work ahead.

Angela (USA)
My year at the University of Bristol was an incredible experience. I was able to travel and meet people from all over the world, which truly enhanced the quality of my degree in International Relations. Had I chosen to attain my degree in the United States, I would have surely missed out on the many personal points of view that were shared throughout the program - to me this was the most important element. Upon returning home, I moved to Washington DC and am working as an analyst for BAE systems. The experience I am gaining from this position, coupled with my education from the University of Bristol, will undoubtedly help me in my future endeavors.
Mohammed (Iraq)
Studying for a Master's in International Relations at the Politics Department of the University of Bristol was not merely a privilege to be a student at one of UK's top academic institutions. But a huge opportunity to acquire a wide range of academic material, taught by internationally renowned and informed academics, both British and foreign. Living in Bristol let alone its beauty, is a huge cultural experience; meeting people from diverse backgrounds and various nationalities is only one aspect of many that substantially contributed to my education, broadened my mind and perspective. Being a postgraduate student at Bristol was an inspiring experience that will live with me as an inseparable part of my personality; it will stay as a significant motivation and inspiration for my current and future career. Moreover, if not for the credible degree attained from Bristol and the experience and knowledge acquired there, I would not have been lucky enough to lecture at the Faculty of Political Science of Sulaimani University in Iraqi Kurdistan (Northern Iraq). Additionally, I aspire to and expect further potential career prospects.
Tom (UK)
To be able to immerse myself for a year in such a passionate and diverse department was an incredible experience. The intense debates in the seminars were great motivation to read as widely and voraciously as possible. The course tutors were accessible and engaged and every session felt fresh. The context of the build up to and beginning of the war in Iraq meant that we were all of us learning and adjusting our positions. The course developed my knowledge of IR in depth, breadth and discipline and has opened up a whole new world to me.
Claire (UK)
After completing a fascinating year studying for my MSc in International Relations in Bristol - culminating in a thesis on the role of multinational companies in less developed countries - I joined the graduate scheme of one of the Big 4 international management consultancies. I've now been there for almost 4 years and have specialised in public sector work - especially central government - and enjoy the opportunity to see politics and the civil service from a variety of perspectives. I retain a passion for international relations that is indulged occasionally at work (including a memorable trip to understand the issues facing returned asylum seekers in Albania) and whenever I can in travel (Middle East last year, Central Asia this year!).