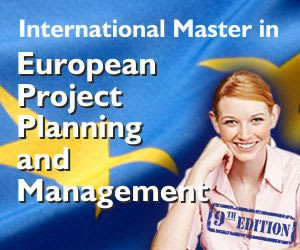 About the course
Are you interested in an International Career?
Enroll in the 11th edition of the Master in European Project Planning and Management.
The 11th Edition of the Master programme will be presented as a Hybrid initiative (i.e. online and onsite).
A TRULY INTERNATIONAL PROGRAMME
Since the first Edition of the Master, organised in 2012, over 200 graduate students of over 40 nationalities, worldwide, attended the master course.The involved lecturers come from 8 European countries.Internships are organised in 20 different countries throughout Europe.
Read more about this course
Loading...
---
---
Send an enquiry to Pixel
Please correct the errors indicated below to send your enquiry
The information you submit to Pixel will only be used by them or their data partners to deal with your enquiry, according to their privacy notice. For more information on how we use and store your data, please read our privacy statement.
Where is Pixel
---
Videos
---
Student Profile(s)
Ana M.

The experience I had during the master course was excellent. I have gained plenty of knowledge. A strong point of the learning dimension was the excellent combination of theory with practical exercises in classroom. Also, there was a good balance between the modules implemented and internship in the second phase of the project. I should mentioned as well, that after the Master finished, I have submitted some projects in different programmes and 6 projects were approved. This great scale of success is dedicated also to the knowledge I received during the Master Course I had in Pixel. Last but not least, I would like to mention our great professional lectures and the staff of Pixel who made this experience an unforgettable one.
Deniz O.

Very well structured and focused programme. Very useful! I have gained a lot of knowledge. Pixel has a very successful and long experience in European project planning and management. The Master was based on a practical approach and delivered by an international teaching staff, it offered a great opportunity for an international internship and was organised in the fantastic city of Florence. I would highly recommend this Master programme.
Margarita K.

The International Master in European Planning and Project Management is one of the best way to obtain an overall view about the European funding programmes and at the same time create contacts for your future projects. The trainers were experienced and successful professionals in their field who provided us with important material and gave us useful advice for the future. The practical activities carried out during the training were really useful as we could develop our skills in presentation, collaboration and practiced on how to plan and manage a European project. The relations with the other participants were excellent. What is really important is that the participants come from different countries and this is useful for the creation of future partnerships. After the internship I was selected for a position in Brussels for the Union of Cypriot Municipalities.
Patricia M.

The knowledge gained during the Master have meant an enormous added value for my professional career. Apart from living a pleasant experience in Florence and making friends with whom I still have a great relationship, I obtained a full transversal knowledge regarding project management, its monitoring, planning and evaluation which nowadays I am putting into practice in my job as a project manager. The internship in Conexx-Europe in Brussels has been a great professional and personal experience. The staff of Conexx always encouraged me to develop my project ideas, by motivating me to be proactive. I have learned a lot about different sorts of project, mainly in the area of International Cooperation and Development. After the internship I was offered a job at Conexx-Europe in Brussels where I am currently working.
Adele T.

The European Project Planning and Management International Master, which I have attended in 2014, let me improve my professional skills and develop capacities to find a proper job in the field of European project planning. The knowledge provided by the Master was fundamental to understand European programmes and how to write a call of proposal. The Master gave me the opportunity to be an intern at Evolaris in Austria. During the internship I had the opportunity to practice what I learn during the lessons held in Florence. I worked in an international team, and contributed to the submission of two projects in the framework of the European Programme H2020. At the end of the Master internship, at the beginning of May 2015, I started working in a strategy consulting, called Lynkeus, based in Rome. They offered me a stable position as a project assistant. Currently I am still working at Lynkeus.
Betime H.

The decision to pursue the International Master in European Project Planning and Management was a great step for me. Pixel's programme is specifically designed to combine theoretical and practical lessons so the students could absorb the information and understand the process easily. In addition to the three months classes held in Florence, Pixel arranged me a three months internship in an educational public institution in Netherlands, called Landstede. This was a great opportunity for me to put into practice the knowledge gained through the classes taken in Florence. I would like to note that the host organization treated me as an integral part of the projects, thus involving me in the entire projects' preparation and implementation phases. After completion of my internship, I returned back in Kosovo where very shortly after got engaged in two European projects in a consultancy role. Finally, I would urge the future students to use this programme best as possible as a very adequate one for those aiming to enter the European projects' field. It does not only provide you with the right knowledge, but also triggers you to generate new ideas and how to make them happen in reality.
Guillermo Luis C.

First of all, I would like to thank you so much for the knowledge and skills gained during this amazing experience!!! During 2016, I was looking for job opportunities and/or post graduate courses. I have found the "International Master in EU Projects Planning and Management" organised by Pixel and I have decided to take this challenge with the hope to improve my professional skills and to find easier a good job. I HAVE TO SAY THAT IT WAS ONE OF THE BEST DECISION OF MY LIFE: I have only 2 days left of my Internship in Limerick Institute of Technology and I have 3 job offers on my hands at present!!! The first one is to stay in Limerick Institute of Technology where I am currently performing the internship! The second is based in Dublin, working as EU Project Manager for a SME doing projects under H2020 funding programme! And the 3rd one is for a private company in Italy, working as Project Manager as well!!! Now I have to decide which one will be the best opportunity for my professional career. I really want to thank you again and I am more then satisfied with the Master!!! I will highly recommend it! Limerick, March 2017
Toni L.

The Master course has been a really good personal and professional experience. I have learnt how to write and manage European projects. I met great experts in this field during the training sessions. The Master course was very practical-oriented and really connected to the working reality. The internship in Conexx-Europe in Brussels has been very rewarding and I am still working there. I recommend this master course because it can make a very positive impact in your life, in terms of working experience and acquisition of new valuable skills.
Anna B.

The Master in European Project Planning and Management has been an excellent opportunity to get an in-depth training on the structure and functioning of European programmes and on the different steps entailed in all European projects, from the writing of a proposal to project management activities. The fact that all trainers are professionals with years of experience is a real plus, together with the many practical activities that provided me with an insight on the work involved in the managing of a European project. I have also really appreciated the international dimension of the course, as my classmates came from different parts of the world (France, Spain, Slovenia, Portugal, Armenia, Argentina, Kazakhstan, Paraguay, Ghana...). Working together on the writing of a final project has been engaging and exciting also from a personal point of view. The internship offered right after the training course has been one of the main reason why I decided to apply to this master and it has been a real integration to the class-based training. At the moment, I am in Spain, working for a company offering services to the Directorate General for Education and Culture of the European Commission and promoting projects in the field of education.
Sana A.

I decided to take up this master' course because I wanted to gain skills in Project Management. I was happy with my decision because - first of all - it was not time consuming and the total duration was only six month. Secondly it was both classroom based and internship abroad. The courses covered each and every step involved in European Project management. The classroom based course had many practical exercises almost every day and this helped us to learn things faster. I made new friends and I am hired by the same company where I did my internship. So, for me, it was a great experience and I highly recommend this course to those who wish to pursue their career in European Project planning and Management.
Botagoz N.

I am extremely pleased with the content of the course. I want to emphasize that I am greatly impressed by the trainers' enthusiasm and approach to teaching. Trainers were very engaging, energetic and made sure everyone was included in the learning process. The theory was complemented by practical exercises and case studies. The project work, we have simulated at the end of the course, has been a great opportunity not only in terms of project management, but it also gave us a better understanding of what kind of leadership skills you need to be an effective team member. My internship experience was good too, as I practiced the knowledge and skills I have acquired during the theoretical part. As a result of this course, I am currently employed by Food and Agriculture Organization of the United Nations (FAO) and currently deployed to Bangladesh to work as Programme Officer.
Gerasimos M.

Attending this master programme was a major milestone in my career and one of the best periods in my life. Being interested in acquiring skills and knowledge concerning European projects I was fully satisfied with the programme. The delivered training material was up to date and relevant to the real professional challenges of this field. Also the practical activities during classroom course were really fitting for understanding the work to be carried out during a project. All trainers are real-life professionals with a long experience in that field, providing the students with a lot of knowledge. Moreover, it was a really pleasant experience staying in beautiful Florence and meeting all these interesting colleagues from around the world. I still remember with joy my time in Florence and I made new friendships with my colleagues there. During my Internship at Limerick Institute of Technology, I got first-hand and useful experience in European projects, which help me during my current role as a project manager in a private company specialized in the SME instrument programme. Shortly after the internship, I was offered a job as a European Project Manager in Las Palmas. I recommend this programme to any professional who want to gain knowledge and experience in European projects.
Igor R.

The Master course on European Project Planning and Management was one of the best decisions I have ever made in the field of EU project management training. For me, the most important feature of the course was represented by the in-depth skills of trainers in specific fields and their willingness to answer specific questions and to share their experience. This alone broaden my horizon to see what is possible to achieve in the field of EU project. The second most important thing is giving focus on importance of EU politics, visions, strategies and fields covered with different EU priority lines, which every EU project manager should know in order to write a successful project. After the course, I have already written few applications in new fields which I have never thought I'll be able to do. I highly recommend this course.
Alberto D.

The Master in European Project Planning & Management was the perfect completion of my studies and the basis on which to build my professional career. Thanks to it, I was able to quickly enter the labour market. After the internship, indeed, I was offered a job by a consultancy company based in Rome where I am in charge of scouting European funding opportunities and of European project planning. Among the Master's strongest points, the relevance of the training contents, the skills and the experience of the trainers and the applied teaching method, which combines theoretical lectures and practical simulations. In addition, the final project work provided me with "on-field" experience, through which I had the opportunity to develop a real project proposal. During the internship, which I consider to be the added value of this Master, I had the chance to prove myself in a real and ideal working environment in Brussels and this relevant experience also opened up new career opportunities. As mentioned, I am currently working for an organization active in the field of EU funding, but I also have received other relevant job offers in the last few months and I was able to choose the one I found more relevant for me.
Marina P.

The classroom course was a great opportunity to learn and update latest information on the EU funded programmes as well as how to be effective in planning and managing European projects. Key knowledge was provided by skilled trainers with impressive experience and competences. During the internship I was able to support and learn insights of the EU Interreg BSR project daily implementation. The course was an exciting international studying experience, among wonderful professionals, a possibility to broaden personal network. Interaction between course mates created a special supportive atmosphere encouraging for further interaction beyond the course. My new gained knowledge has been already evaluated as a competitive professional competence and solid proficiency in EU project planning and management. Thank you Pixel team for daily technical support, practical advices, as well as for the balanced content of the course programme.
Annalisa P.

After a Master degree in International Relations at the Orientale University of Naples, I attended the Master in European Project Management that was a very well organized and focused programme. It gave me a great deal of knowledge and gained huge insight into the field of European Projects Management and Planning. I found the Master has inestimable value for my career, due a practical approach, professional tools and delivered by an International teaching staff. It gave me a great opportunity for an international internship at Hull University, in UK. Great experience! Later I landed in Brussels, where I am still working as project manager. I really want to thank you again and I am more then satisfied with the Master and its Super Staff!!!
Alice C.

The Master was extremely useful. Teachers are all passionate, clear and available for any question. I found classes intense and very interesting and they are actually based on professional experience in the field. Thanks to the practical activities and the final project work I had the chance to put in practice the knowledge acquired, gain new competences and improve my skills. It was a pleasure to work together with my master colleagues. We are still in touch and some of them are now close friends. The internship was a once in a life experience. The team is absolutely amazing. I had the chance to collaborate to writing three Erasmus projects. I am currently working in a European Project Consulting in Rome: I love it and I really think that European Project Planning and Management is the job I have always wanted.
Simone G.

The Master course was a good combination of lectures and practical activities. It was a great opportunity to acquire competences in project writing. The trainers had long-time experience in the EU Projects field. During the course, I met other people interested in this field, learned to work in team and established a network of new colleagues. During the internship I put into practice the methodology acquired in project writing at LIT in Ireland. I totally recommend the placement experience at LIT for both professional and human dimension. At the end of this experience, I have been hired as European Project Manager at the University of Montpellier in France where I am currently working.
Claudio I.

Pixel is a great organization with a long experience in formulating, managing projects and teaching about the EU dimension. I had a great time in Pixel, full of study, work, ideas, brainstorming, practical activities, self-improvement and full of life. They gave value to our individual personalities to make each one of us aware of our capacities. My internship was very successful. I am happy to say that my experience in Zinev Art Technologies in Sofia, Bulgaria cannot be more marvelous. I have the luck and the honour to work with colleagues whose kindness, respect and loveliness is beyond comparison. From the very beginning they have listened to my ideas. They gave me the possibility to submit an entire project of mine with my name as project manager. And we still have plenty of visions we will carry out together. I want to be nowhere else but here. I am proud to speak in present tense because my coordinator and I realized that we were not able to say goodbye and she asked me to be officially part of their amazing team.
Magdalena N.

The Master trainers are highly qualified as well as good presenters. The relevance of the training content was confirmed by my ability to put theory into practice during my internship. My relation with course participants was interactive, supportive and respectful. This good relationship was the basis for a successful project work. The internship was valuable. The experiences gained have no doubt enhanced my career. After the Master experience The Development Concern Centre in Ghana has engaged me to collaborate in the planning and management of EU Education and Health projects in 7 Districts Assemblies of the Ministry of Local Government for the development of these deprived district communities in Northern Ghana.
Ema Ishmi T.

A professional Master program led by a very successful organization. I gained a new perspective and strengthened my core needs, as well as developed my management thinking. The quality of the program was impressive. Moreover, completing the Pixel master program has given me confidence. Getting into this program was the best start I could ever get to make a career in the field of European Project Planning and Management.
Ani A.

My goals and objectives were achieved during the Master, which were to get knowledge on EU funding opportunities and their applying methods. After 2 months classroom based lectures, I started the 3 months internship. During the internship, under the guidance of my supervisor, I participated in the management of the ongoing projects as well as in partners meetings. After a successful 3 month internship program I got an offer from my supervisor to continue the collaboration. The accumulated one year experience in the field of EU project writing and management enriched my curriculum. Currently I am working as EU Funded Projects Consultant in an Italian consulting company based in Novara. Summing up, the Master served as huge input in my further career growth, development and life itself.
Joël F.

I had been working for a while in the academic sector as a political science researcher in France and Belgium when I decided to attend the International Master on European Project Planning and Management. I appreciated greatly the classes in Florence. The instructors were experienced in a variety of funding programmes and the teaching approach was practical and comprehensive. During my internship I had to opportunity to put the skills learned in the Master into practice and the writing of the Horizon 2020 application was finalized in less than two months! Shortly after the end of the internship, I was able to obtain a position as "Research project coordinator" in charge of supporting the development of European research consortia at the University of Louvain-la-Neuve (Belgium). The Master diploma and the internship experience were crucial to convince my new employers of the relevance of my candidacy. I was even able to describe during the job interview funding opportunities which they had not heard about before!
Yordan D.

The master program provided me with relevant knowledge and skills on project planning and management, which are also applicable to other aspects in business and economy. The training contents were very relevant and a lot of practical activities were organized. Another positive aspect of the course were the trainers, who are project evaluators, officers in various EU institutions and experts in European projects, who shared practical insights, gained from their personal experience. The internship was also very useful, because I experienced how European projects are ran in real life. What was also great about the course is that you get to meet people from all over the world with whom you can build long-lasting friendships and future business connections. In our edition we had people from 15 different countries. Thanks to this master course I can now start planning a project for my own company.
Ilaria T.

After a PhD and a working experience in industry, I decided to attend the International Master in European Project Planning and Management. The classroom course is intensive and well structured, with a good balance between theory and practice. The value of the Master is the practical group work organized by each of the trainers. These activities gave the opportunity to put into practice the theoretical concept, stimulate the collaboration and develop interpersonal skills that are fundamental in this job. The lessons are very interactive involving and stimulating. After the classroom course, I carried out a three-month internship at Evolaris in Graz (Austria) and it was a great experience! At the end of the internship I continued to work at Evolaris as Assistant EU Project Manager for other two months. This experience as intern gave me the opportunity to launch my career in the field of the EU funding opportunities and open my job perspectives. I´m currently working as Innovation & Research Consultant in a company based in Graz and I´m fully satisfied with the Master and the great opportunity to work in a stimulate and dynamic environment.

Zusepe Elias Z.

The Master proposed by Pixel has contributed to realize my ambition of becoming a European project planner and manager. The course is well balanced between theory and practice. The practical activities of the Master will result fundamental during the internship period. I have found its contents very useful because they were focused on topics and techniques which I am applying in my current job. The internship with the hosting organisation has been very successful and, after the training period, I have been asked to keep working with them as a project planner and manager, in Brussels. I strongly recommend this Master for all of those who wish to become expert project managers in the field of European Affairs while learning in a motivating intercultural environment surrounded by the beauty of Florence.
Iris M.

This master analyzes the methods and techniques for successfully planning and managing European projects. The training was at a high level, with a competent group of trainers. The material was prepared well, clearly, and with interesting examples. The practical training aspect, during the class room sessions and the traineeship, outweighed the lecture parts. Which I think is the strongest point of this Master. Furthermore, the environment and the atmosphere at Pixel is very stimulating and it is a great opportunity to be able to network with a diverse range of colleagues. The internship was also a valuable resource and a great learning experience which has broadened my understanding of the European funding world. The experience I gained is the best way for my future career in European Project Planning and Management and opened up a new horizon of career options.