Football Marketing & Management
---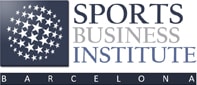 About the course
GENERAL OVERVIEW
The Football Marketing & Management - Online Course is designed for those looking to start or advance their professional career in the football/soccer industry in the areas of marketing, sponsorship, athlete representation, media and event management.
COURSE CONTENT
The program divided into eight modules that are designed to equip and prepare professionals to develop a successful career path and enhance their opportunities to work in the football industry. The course is structured in the following manner:
Module 1 – Introduction to football marketing and the business of sport - satisfying the needs of today's international football consumers
Module 2 – Business development at top European football clubs – matchday revenues, retail merchandising and licensing
Module 3 – Successful football sponsorship partnerships – best practices between sponsors and rights holders
Module 4 – Athlete representation in football- the role of the agent/agency in the professional football industry
Module 5 – Individual athlete sponsorship in football - the winning relationship between a commercial brand and a football brand ambassador
Module 6 – Ambush marketing in football – protecting football properties and defending sponsors' brands
Module 7 – Strategic football event management – major international football competitions as vehicles for economic, social and cultural impact
Module 8 – Digisport & social media – new ways for football clubs and organizations to communicate with sport consumers and novel approaches to marketing activities.
METHODOLOGY
We have developed an integral learning system consisting of live weekly web conferences with industry professionals and like-minded peers, complemented with an interactive online platform designed to develop the skills through football-specific case studies, practical course work and a multicultural learning environment. Our approach to learning consists of the following structure:
1. Individual Preparation – reading of cases, articles and technical notes from the interactive online platform
2. Group Discussion – interactive discussions via email, forums and social networks with classmates
3. Weekly Web Conference session led by industry professional – sharing of professional experiences, best practices, lessons learned and conclusions drawn from each session
4. Implementation & evaluation – students are evaluated through hands-on assignments and interactive online tests
CAREER PATHS
• Marketing, sales, ticketing, media, and other executive positions in sports clubs, associations, federations and governing bodies
• Marketing and sponsorship departments of multinational firms
• Sports communication agencies and media outlets
• Representation and event management agencies
• Administrations responsible for sporting event organization and management
• Football stadium and facilities management
COURSE INCLUDES:
• Live weekly sessions with industry professionals via web conference
• Access to online campus with football case studies, articles & interactive forums
• Pedagogical support via email with SBI´s faculty
• All students form part of SBI alumni that are notified of any vacancies and internships with our collaborating partners
• Academic certificate of completion
APPLICATION PROCESS
!. Go to
http://www.sbibarcelona.com
2. Click on the Football Marketing & Management Online Program
3. Go to Apply Now. Send us your information
4. Secure your spot via PayPal, credit card or bank transfer. Limited Spaces available!
Email us at info@sbibarcelona for a copy of the program prospectus. Also, follow us on Twitter @SBI_Barcelona and Facebook (
https://www.facebook.com/SportsBusinessInstituteBarcelona)
for our latest news and information.
Read more about this course
Loading...
---
Entry Requirements
Course is designed for those looking to start or advance their career in the football industry. Course has a duration of two months. Limited spaces available. COURSE BEGINS MAY 14TH, 2018.
---
Send an enquiry to Sports Business Institute Barcelona
Please correct the errors indicated below to send your enquiry
The information you submit to Sports Business Institute Barcelona will only be used by them or their data partners to deal with your enquiry, according to their privacy notice. For more information on how we use and store your data, please read our privacy statement.
Where is Sports Business Institute Barcelona
---
Videos
---
Student Profile(s)
Anders Ahlstrom
The program was interesting on many levels. The tutors were very experienced in the field of sports marketing and created a great learning and networking environment.

Every single part of the program has been very valuable to me. I would rate it top level since the combination of quality together with the skilled and practical form of educating is hard to beat.

I could not have found a better partner to educate myself in sports marketing.

Anders Ahlstrom
Founder Ström Sports
Football Marketing & Business Development in China
Denis Kolev
I can highly recommend the Football Marketing & Management course to everyone who wants to further their knowledge of the football indsutry. The course was very well-structured and the group discussions are of great value. The experience of Diego Valdes, combined with his great interpersonal skills make him a great program coordinator who is always open for advice and ready to answer your questions.
Dani Diez
After attending the Football Marketing & Management Course at Sports Business Institute Barcelona, I can finally say that has included everything I was expecting from it. From practical cases and theory about different aspects of the football industry to the experience of our tutor, Diego Valdés, we've learned a lot about sponsorship, planning events, ambush marketing, etc… The online campus has also helped a lot, with illustrative videos and more inputs about each module besides the slides. The weekly web conferences were really useful too, because we could interact a lot between all the participants.
These 8 weeks have been a great experience and if I could, I would do the course again.
Hovsep Seraydarian
I enrolled and followed the Football management and marketing course over the past eight weeks and I have to say that I benefited a lot from it. The modules, the explanations along with the case studies were more than sufficient in helping me learn more about the business aspect of football. I must also thank Diego Valdes who I believe added more value to the course and he's a person who will surely increase your football marketing and management knowledge. Words are not enough to praise but all I can say is that I recommend this module to everyone who wants to peruse a career in football management.
Paulo Pereira
Sports business Institute has been a real help for me in my journey to enter the football industry. As a financial adviser, I needed to understand more deeply the reality of football business, and the Sports Business Institute gave me a broad knowledge and a good network to do so. A special thanks to Diego (Program Director) who has been key to meeting a broad range of people in the industry.
Neil Didsbury
I undertook a Football Marketing and Business Management course of study with the Sports Business Institute, Barcelona in the Autumn of 2013. The course was a wonderful blend of current, relatable content taught across live web seminars, background reading, audio visual content, online assesment and homework. I cannot praise the course highly enough, nor those that teach it. The tutors have first hand experience of the modern football industry at the highest level and a vast knowledge of the inner workings of the industry worldwide. I hope to undertake further courses with them in the near future and would unreservedly recommend The Sports Institute, Barcelona to anybody contemplating one of their courses
Anthony Goesaert
I followed the Football Management and Marketing course over the past few months and must say it was a great experience. Good insights from the industry, great examples and a well lead weekly seminar. Would definitely recommend to everyone who wants a more detailed insight in the industry or who is aiming for a career in sports/football management.
Sevan Sekerci
Sports Business Institute is a school that allows you to develop quickly skills in marketing and management in the complex football industry, with concrete and direct interaction with our teacher. Nothing is theoretical, everything is based on real and concrete cases, thanks to the experience and knowledge of our teacher. The conference(s) with professionals of the sector to complete the course were very rewarding. Through this course, I learned that I really do not know the behind the scenes of my favorite sport. Thanks SBI!
Sam Abushaban
The course was great! organized, practical with professional delivery, and I shouldn't forget it was always enriched with up to date business cases from the industry. Diego (the instructor) is an industry guru, with great analytic caliber that you feel the value of his knowledge. He is open, energetic and easy going instructor. I should definitely recommend the course (Football Marketing and Management) for both those who want to get in to the industry or just interested to understanding it better
Matteo Trevisani - Digial Marketing Specialist at CONCACAF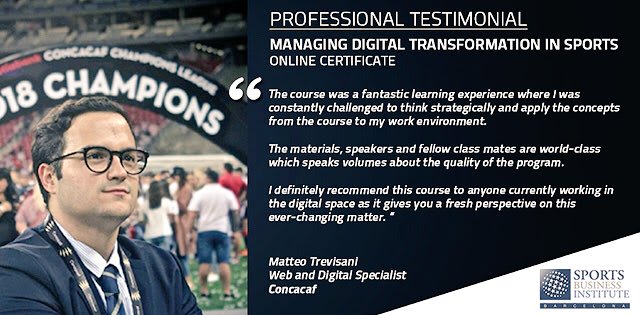 I enrolled in several programs at the Sports Business Institute Barcelona to acquire new skills and network with industry professionals. I am absolutely thrilled to have taken their programs as they have given me valuable and practical information that I have used in my professional life. The material presented in the course is very relevant, fresh and easy to comprehend. I would recommend their courses to anyone who is looking to break into the sports industry or is currently working at a sports organization. The courses offer so many takeaways and lessons that will be used in the future. Congratulations to Diego, Emma and the entire SBI team for their organization and drive to deliver top-quality content to students!
Laura Gabbidon - Head of Marketing at West Bromwich Albion FC
I completed the Marketing and Social Media modules back to back and found them interesting and valuable. Working interactively with people from different sports backgrounds provided really interesting opinions and cases and a new perspective on an industry I've worked in my whole career. Anyone looking to break into the industry should definitely look at this course, the networking opportunities alone are invaluable. Even for professionals within the industry there's still a lot of information and inspiration that comes from both courses - definitely worth a look!
Leo Avery - Legal Counsel at International Olympic Committee
The Sports Business Institute's Online Football Marketing & Management course provides an extremely detailed insight into the key commercial aspects of the football business. The weekly group discussions, expertly led by the knowledgeable Diego Valdes, provide an invaluable opportunity for students to engage with each other and share ideas and opinions. Additionally, the course materials give students a vast amount of background information on a wide variety of relevant topics. I would happliy recommend this course to both those looking to gain an insight into the football business and those already working in the industry.