Economics (One-year programme) MSc
---

About the course
This programme is intended to equip you with the main tools of the professional economist, whether you intend to work in government, central banking, international organisations or private sector firms such as economic consultancies.
Read more about this course
Loading...
---
Entry Requirements
First class honours degree in economics or equivalent with concentration in economics and quantitative subjects. Successful candidates will typically have achieved very good examination results in university-level two-semester length courses in [a] mathematics (both advanced calculus and linear algebra), [b] econometrics and statistics, [c] intermediate macro and microeconomics.

If your first degree is not in economics, you should apply to take the MSc Economics (2 year) programme. Candidates with a technical degree and a strong quantitative background might wish to consider applying to MSc Econometrics and Mathematical Economics.
---
Where is London School of Economics and Political Science
---
Videos
---
Student Profile(s)
Leo Chi-Chung Ng
The MSc Economics programme is a well-structured programme and is in one of the best economics departments in the world. The level of teaching and research is excellent, with many of the professors having previously studied economics at world-class institutions. The teaching is diverse, as each of the lecturers specialise in their own research areas, which allows many in-depth academic discussions. We were also very honoured to have had this year's Nobel laureate teach us in one of the core courses.

There are a lot of resources which are accessible for economics students. Students admitted to the programme are all from top universities around the globe and have a very strong academic, as well as professional, background. This facilitates the exchange of different cultures and views and offers us opportunities for discussion.

LSE is famous for organising many public lectures delivered by well-known figures from a broad spectrum of areas in social sciences such as economics, politics, international relations etc. As an economic student, I feel privileged not only for being taught by the professors of LSE but also for having the opportunities to listen to views and comments of many great people around the world on current issues.

I am interested in macroeconomic research and am looking for opportunities in this area. I also hope to get involved in public policy analysis in the future so as to contribute to Hong Kong by using what I learnt at LSE.
Lorenzo Moruzzi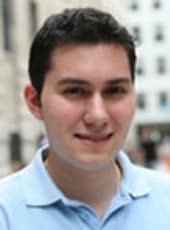 The best thing about this programme is how it has allowed me to expand on some of the things I only touched on in my undergraduate studies, and to pursue an area of great interest with my dissertation.
When going to study economics you think of LSE because of its reputation and the quality of its academic staff, but what swayed my decision was the prospect of studying in the heart of such a fantastic city and the diversity of the people I would meet. Being in the centre of London means there is always something to do and certainly no time to get bored. I have had the chance to meet some of the leaders in the field of economics and politics thanks to the excellent programme of speakers at the university, and it has been wonderful to get a flavour of what London has to offer whilst I have been here.

The Careers Service at LSE has given me a lot of help in sorting out my future. I will be starting work at ABN AMRO in September working in asset management, a career path I chose with the help of the LSE Careers Service.