Culture and Conflict in a Global Europe MSc
---

About the course
MSc Culture and Conflict in a Global Europe explores how culture and identity inform contemporary politics and violent conflicts in Europe and beyond.
You will study the politics of culture and the culture of politics, analysing how culture structures internal and external conflicts, and frames efforts at their resolution. You will also critically examine policies aimed at addressing these conflicts at a national and international level.
Read more about this course
Loading...
---
Entry Requirements
Upper second class honours (2:1) degree or equivalent in any discipline.

Competition for places at the School is high. This means that even if you meet the minimum entry requirement, this does not guarantee you an offer of admission.
---
---
Where is London School of Economics and Political Science
---
Videos
---
Student Profile(s)
Outi Ruusuvirta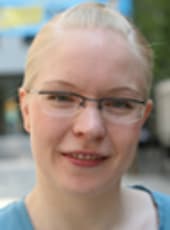 I like the wide variety of courses from which one can pick and choose to tailor the programme to suit one's own interests and needs.

Whilst the academic record, world class researchers and lectures and the superb library at LSE were among the key determinants when I was choosing a university for my Master's, the type of people that LSE attracts was also a consideration. You can have the cleverest and most ground-breaking ideas in the world, but if there aren't people around you that you can discuss them with, and be challenged and supported by, there's not much to it.

I find the general atmosphere at LSE inspiring. In seminars, there's a real debate and discussion and when you see others working hard, it inspires you to try even harder, too. But it's not only the academic side of things, we have a very nice group of people in my MSc programme and we do lots of things together outside studying; weekly pub night on Wednesdays, almost every weekend somebody organises a party or a get-together etc.

I'm very grateful to those academics who despite their busy schedules have been happy to listen to my ideas and help develop them. As I am considering doing a PhD, this kind of informal interaction has certainly helped me.
Scholarships
The School recognises that the cost of living in London may be higher than in your home town or country, and we provide generous scholarships each year to home and overseas students.

LSE makes available over GBP 15 million annually in financial aid for its students. Around one quarter of our graduate students receive financial support from the School.

At master's level, the value of support given by LSE ranges in value from 10 per cent of the tuition fee to a full fees and maintenance award.

This programme is eligible for needs-based awards from LSE, including the Graduate Support Scheme, Master's Awards, and Anniversary Scholarships.

Selection for any funding opportunity is based on receipt of an offer for a place and submitting a Graduate Financial Support application, before the funding deadline.

In addition to our needs-based awards, LSE also makes available scholarships for students from specific regions of the world and awards for students studying specific subject areas.

Find out more about our financial support.